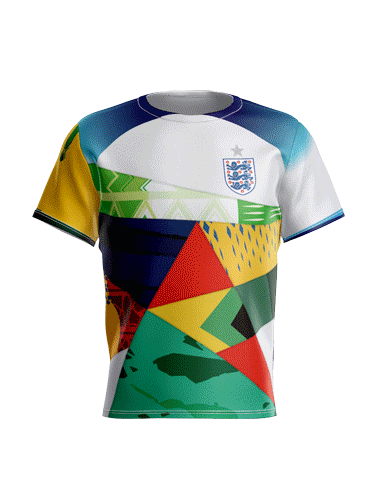 Fabric of England
Following the racist abuse that several of the England players received at the end of the Euros in 2021, this project sets out to educate people that we should champion the diversity of the England team, not criticise it. Immigration and diversity have shaped the modern game of football, and without this it's no exaggeration to say that the England squad wouldn't be what it is today.
Of the 39 players that helped England qualify for the World Cup, almost all of them have migration stories. Using this insight, a specially designed football shirt was created to showcases the many nations that make up the England squad. The shirt resembles a 'patchwork quilt' design, created from the England shirt and 13 other national football team shirts.
The Fabric of England shirt is a limited edition shirt, follow the
SRtRC
instagram page for a chance to win the Unofficial England shirt of the 22 World Cup.
...
Below are some words by Shaka Hislop, the Co Founder of SRtRC, and other former footballers.
"It's a celebration of our differences - the countries, languages and cultures. And also celebrates the similarities- the shared joy, expression and hope. The World Cup, every four years, shows us that we only witness the best of us when we champion our differences hand in hand with our similarities."
Shaka Hislip (former Newcastle United goalkeeper)
Co-founder of Show Racism the Red Card


"This shirt is another step towards highlighting the diversity which has made football the international phenomenon that it is today. People all around the world identify with the skill and entertainment that the sport offers us, and as such it has the power to unify us globally. Visually, the shirt demonstrates us coming together with a common appreciation of football"
Viv Anderson MBE (former England player)
"The role of Black people have been significant in England. The wave of immigration started following the Second Word War and the invitation to rebuild the UK bringing skilled labour and impacting massive cultural change. Thereafter the societal impact which followed particularly with sport, music and notably football has made a colossal impact in this country"
Paul Elliott (former Chelsea and Celtic) now at the FA
...
Below is a piece by
Ben Hunte
, a senior journalist who writes about race and inequality for Vice Magazine.
I remember trying to do everything I could in order to appear 'more English'. I'm the first generation of my family born in England. I grew up in East London in the 90s, where cultural diversity wasn't really talked about – it was just experienced. I remember the term "fresh off the boat" – sometimes shortened to just "fresh" – being chucked around my school sports teams. It was like a slur, you definitely didn't want it to come your way.

It was thrown at people in moments where they didn't seem 'English enough', implying they had just got off of a boat that was bound for England from some distant land. Maybe their football shirt smelt too much like last night's beautifully fragrant dinner, or perhaps they accidentally pronounced an English word the same way their parents do – which admittedly is the wrong way, but they do try their best to speak England's native language…

It's now funny to me that my team-mates and I were all trying to hide our true diverse identities in an effort to be more English, because none of us even understood what being English meant. Even now, at 30 years old, it's still such a confusing concept.

For centuries, people have turned to sport to make sense of the world. As I arrived in Malaysia for four years of university, it was football that could immediately connect me with other international students, teachers, and enthusiastic taxi drivers. With a single TV showing a green pitch, a ball, and an energetic crowd, some of the deepest cultural fault lines were bridged.

And that's what drew me to the Fabric of England project. It's a patchwork football shirt which has different nations flags sewn together. The flags represent the rich heritage of the England squad, showing where the players' cultural roots were nurtured.

With the whole of England uniting behind this team who have connections to Ireland, Jamaica, Nigeria and even New Zealand – and with every English person feeling a sense of belonging while watching these sporting legends do their thing – surely the team itself encapsulates what it means to be English, right?

The patchwork project shows me that being English doesn't mean discarding your wider cultural identity. It's the opposite. Being English is actually about the way that this group of cultures can all co-exist like a massive clichéd melting pot, and still give us a united sense of national pride.

Being English is hearing the familiar sound of Sweet Caroline and being ready to thump the air during the chorus. Being English is the silence that sweeps through households across our nation as we nervously wait to see if England can reverse its penalty-shootout reputation. Then of course, being English is the screaming, cheering and hugging as our footballing heroes bring it home once more - united, together, as one England team.